BOGO Bronze Infinity Heart Wing Bracelet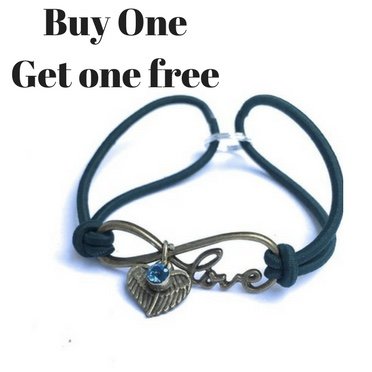 Buy one get one free
Wear your Angel's love for everyone to see, wrapped around your wrist for infinity. 
The Infinity Love bracelet by HEAVENSBOOK ANGELS™ is to be worn by anyone with an Angel in Heaven. The open Infinity upon your wrist has no beginning and no end, symbolizing the eternal love you share with your Angel.  
Give the gift of compassion to yourself, or anyone struggling with the loss of a loved one gone too soon. 
You can add as many more charms to your memorial piece as you wish, such as words, relationships, birthstones and charms at http://heavensbookangels.com/t/add-on-charms 
 Materials: *
2 bronze infinity Love  Bracelets
2 bronze heart wing 
All items are nickel free *Center Charm- Silver plated *Bands-Stretch elastic chord which stretch to fit an 8.5 inch wrist comfortably *Closure- 12mm silver plated ring fastener chord which stretch to fit a 7.5 inch wrist comfortably.